Man… what a week that was at East End Lodge. It's been a while since I've had 6 straight days of fishing and it was glorious. I don't think I've had 6 days of such good weather in all my flats fishing life (only a decade of doing this, so others certainly have a longer time-span to compare).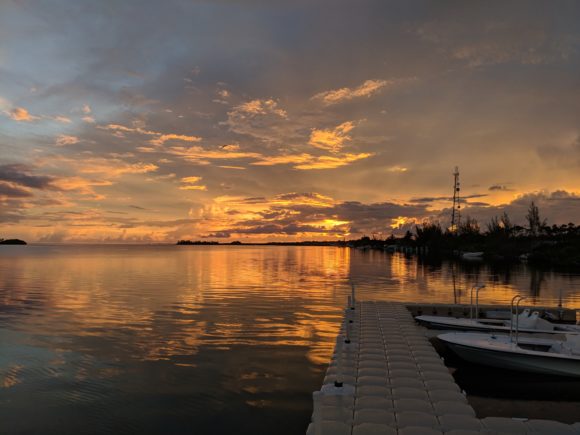 The fishing was solid. We had days that were better than others, but overall there were plenty of fish around.
I was accompanied on this trip by Elliott Adler, a guy I had never met before. That's a risk, fishing with a guy who you don't know. It worked out well and we fished together well. He's a good caster and easy to share a skiff with, and I'm not saying that just because he let me catch the first fish, although that helps.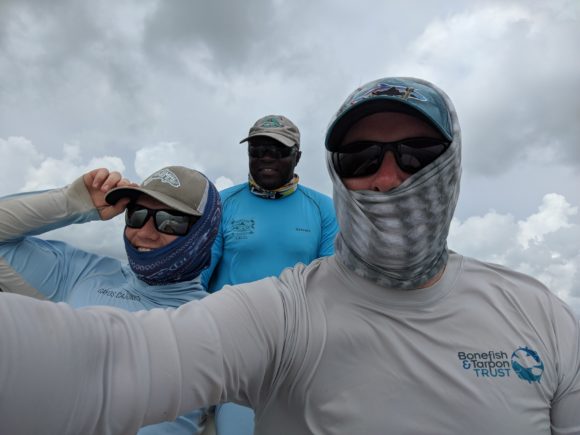 We really got to explore the East End on this trip and I remain impressed with the size of the fishery. There really are a lot of options out there and Cecil, our guide for the week, had enough room to enable him to dodge the squalls and thunderheads that would loom, threateningly off in the distance, conjured from the afternoon heat.
A few memorable moments…
The permit shot – wasn't expecting one. I had it… I missed it, but when you don't permit fish often every shot is a memory.
Elliott's first bonefish – always nice to be there for someone's first bonefish. It is sometimes the start of obsession.
Paddling crabs – we found a bunch of crabs hitching rides and paddling on mangrove leaves. I had heard about that once before, but had never seen it. They were using tools! Somehow we didn't get a picture of those.
Late nights with Rob – Rob was a great host and we spent many hours at the bar late into the night talking about everything from Rob's childhood (which was very different from my own) to politics to Bahamian flats fishing regulations to life on the East End.
Some memorable fish – the cruisers along the shoreline the last day, the fish in the mangroves, the shark munched bone that was hit by both a cuda and a shark.
It was a wonderful time and I miss it.