I'm sitting here on the north island of Caye Caulker, stinking a bit, thinking about packing up as we catch a boat back the Belize City here in a couple hours. It has been a good family trip. We snorkeled the reef. We visited an awesome Maya ruin almost all the way to Guatemala. I got fishing with my boy. I had plenty of morning patrols with a fly rod in hand.
Morning patrol was the most effective. I managed a decent snook and a baby tarpon right out front, which was pretty rad. Beyond that, well… the wind has been blowing about 20 mph pretty much non-stop since we got here. The sargasso is all over the place and between that and the wind the water on the ocean-side is something like café-au-lait in color. That has made it a challenge.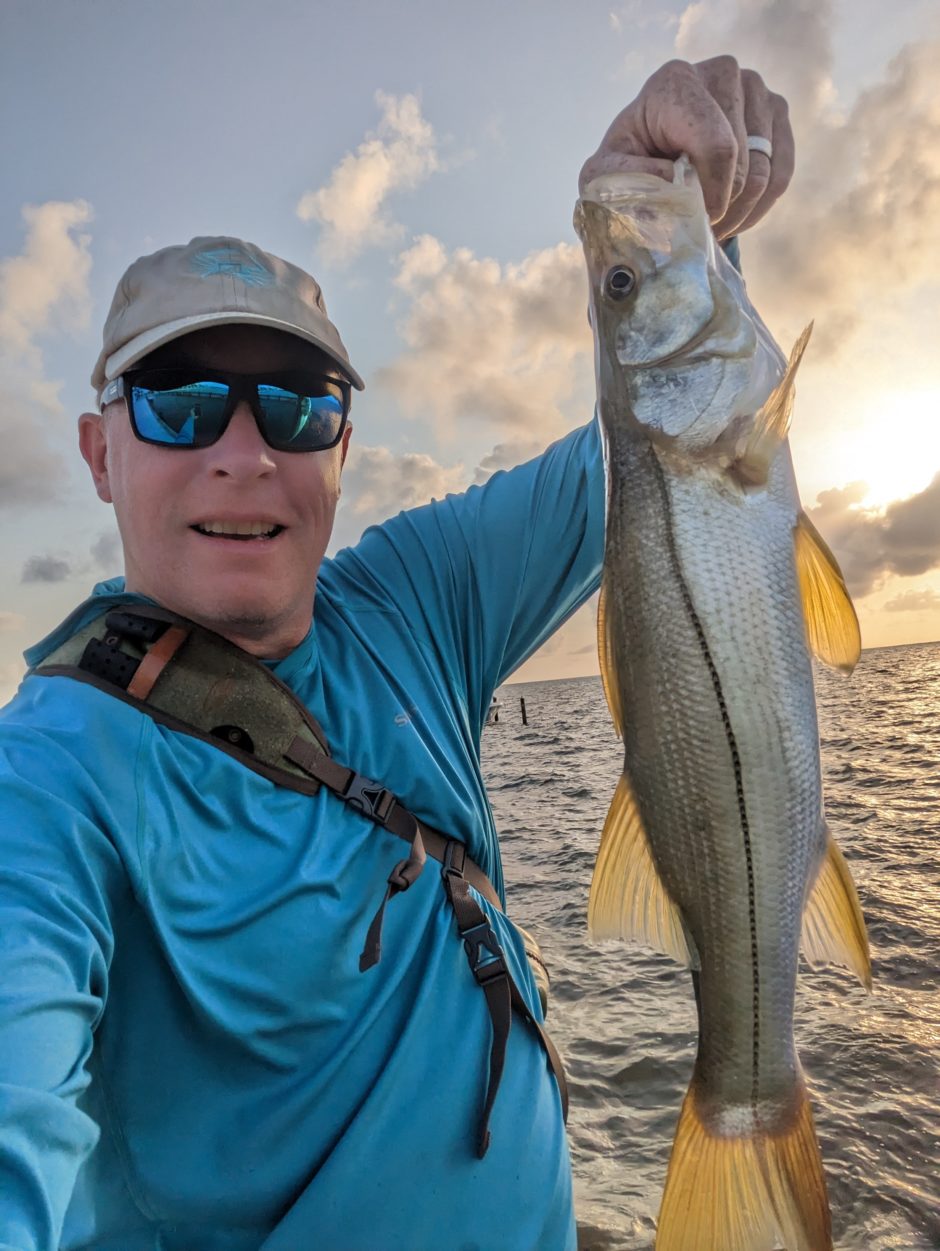 I honestly don't remember being anywhere for a week that had wind like this so consistently… but maybe I've never been in the tropics in June before? I don't know, but it has been less than ideal for fishing.
But… to the fishing.
Earlier this week I went out with Dennis for a full day with my 9 year old. A full day with a 9 year old is an iffy thing. Kids get bored, so I didn't know if we'd last the whole day.
Right off the bat we ran into a pod of dolphins that showed off for us a bit. That was pretty cool and a memorable thing. We ended up seeing 2 different dolphin pods and about 5 manatees.
My son used the spinning rod and bait and he crushed it. He well out-fished me, which was fun for him and a thing he was not shy in sharing with random strangers.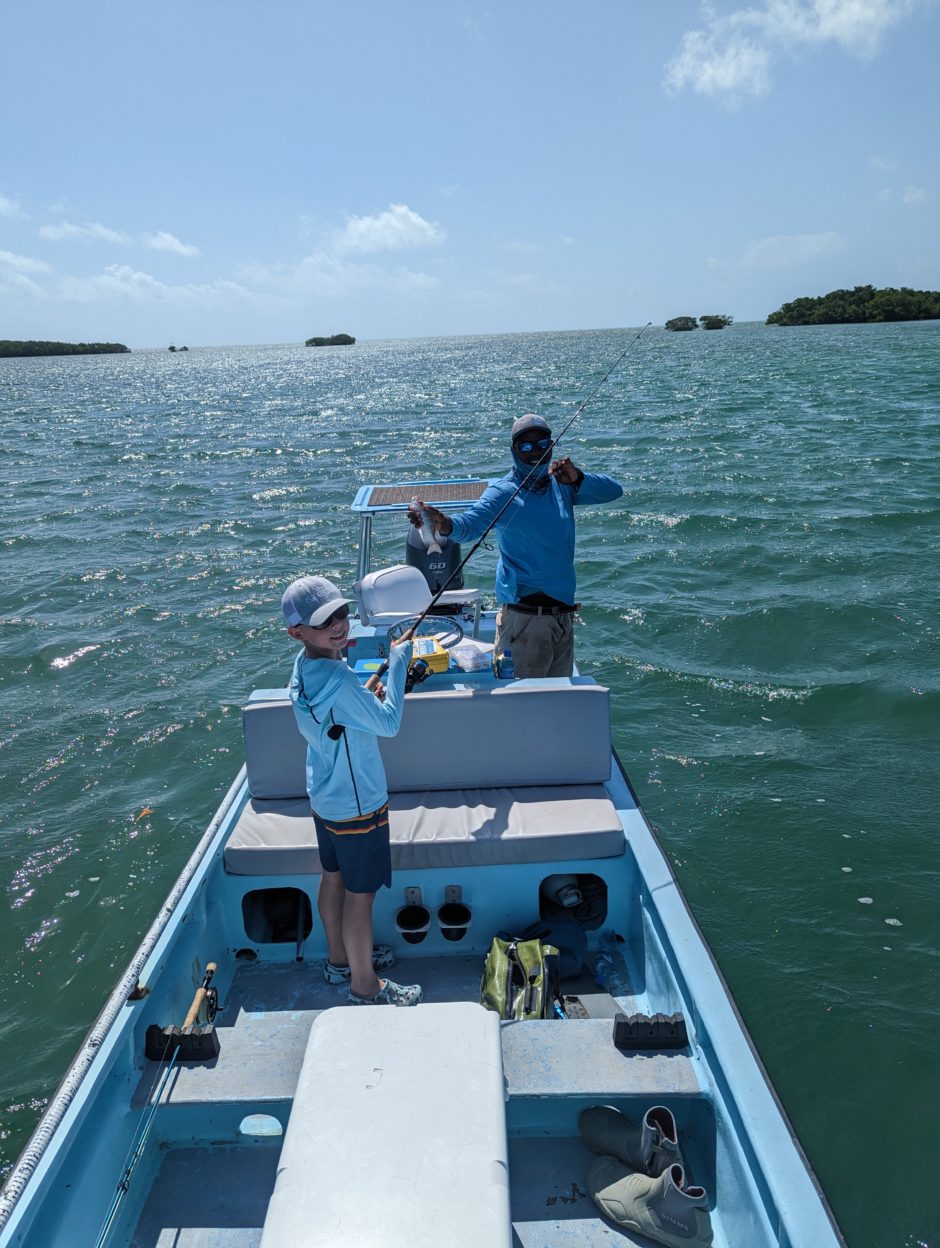 For me… I had one good tarpon shot and I blew it. Wind at my back, I saw the fish first, moving over white sand at 12:00. My shot was good, but I dumped too much line with the strong wind and I struggled to get tight to the fly. So, when the 5+ foot tarpon ate the fly, I couldn't get a hook set on it. That was it. That was my tarpon shot. I didn't get another.
We looked for bonefish for a bit, but the water in the lagoons was really warm and all the feed marks were rays, not bonefish.
I went fishless, save for two accidental small cudas.
That's the way to goes sometimes. I got to share something I love with my son, which was really special. The kid hung in there too. He said the fishing was his favorite part of the trip.
I got another half-day with Guide Kyle and that trip was fun and I had plenty of bonefish shots and even a couple good permit follows (seriously, no idea how I didn't end up with a permit… so… close!). Kyle got us out of the wind, back in some deep lagoons and he found fish for me.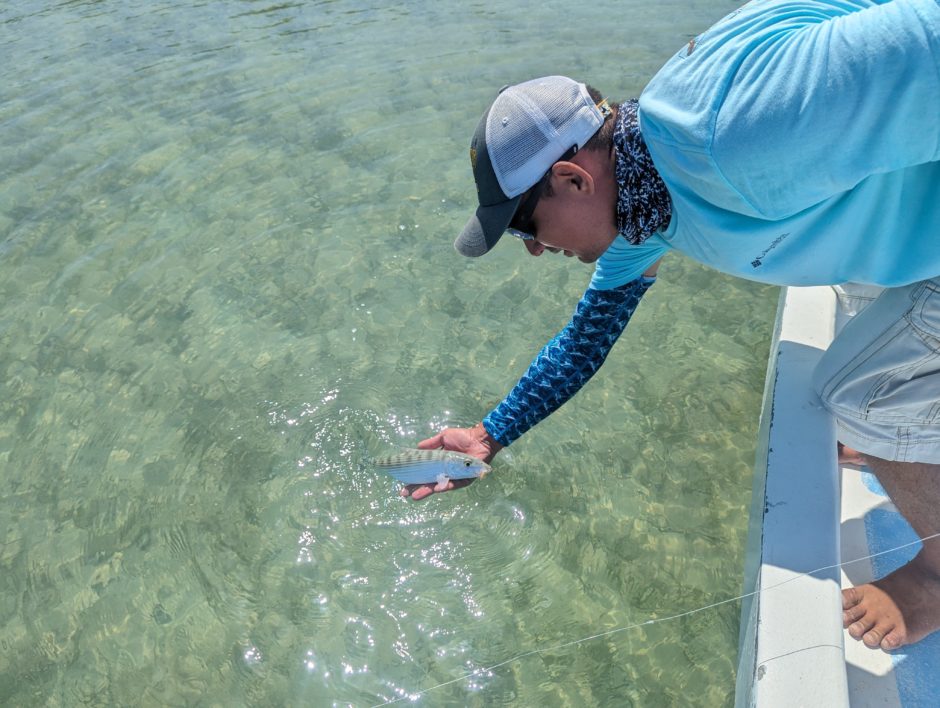 I'm rusty. I put the fly on the heads of bonefish more often than not. I guess you can get out of practice with this stuff! I was also casting with my 8 weight that I managed to break the tip off of. Yup, second broken 8 weight in about 2 months.
We also had a guide pull up behind us and then pole directly on top of us. I mean… that's just total dick-head-maneuver guiding. Kyle did well not to spear the guy with his push pole. If you are the client in this situation, tell your guide you'd like to not do this.
And there we are… that's the end of the trip. We leave here shortly. I'm not packed up yet… maybe hoping if I just never pack, I'll get to prolong my stay in Belize? It's time. Work beckons. There is soccer club work to be done. There's a whole life up there in the Bay that I need to get back to… but I do love it here, even with the relentless heat and this aggravating wind, I do love it. Caye Caulker in Belize and East End Lodge in the Bahamas are probably my two favorite places. Glad to get to be here with my wife and my son and I look forward to getting back, whenever that might be.