Today was not a bonefish day. I only cast at one group of bones. It was just that kind of day. However, there were some real highlights.
I started off the morning casting at some nice sized tarpon. Fish were rolling and I was making casts, but I didn't get a look. It is exciting to cast at big tarpon.
Tandy and I were out with Elvis and we went way out on the ocean flats in search of bones. What we found were sharks, cudas and a (very) few bones. After getting shut out on getting a cuda on the fly, I grabbed the spinning rod and quickly got a very nice cuda.
I used to fish spinning gear growing up but became a fly fishing purist in my 20's. Now, approaching my 40's, I'm starting to see that sometimes it makes sense to bring the spinning gear along. That rod got me into fish (and Tandy into fish) we might not have had otherwise and it made each of us smile in the delight of a hard pulling, acrobatic fish. It was plain and simple fun.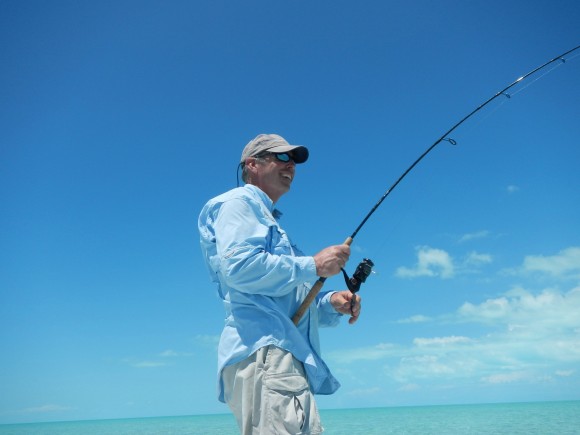 I managed to pick up two cudas on the spinning gear, a nice blue runner on a trolled fly and two more cudas on a popper fly and a nice jack on the popper as well.
The big cuda went to feed one of the Knowles and the head is in a pot at the moment where I'm boiling off the meat so I can pick it clean to bring home to my daughter. Should be a fun gift.
It was a good day, even if not a great bonefishing day. The weather was great, as it has been all week, and I'm looking forward to tomorrow.
Luckily, we stocked up on beer for the rest of our stay.
Tags: Angling Destinations, Long Island