Deneki Outdoors has long been one of my favorite websites for my bonefish fix…  he simply puts up a lot of interesting content.
The most recent post is 4 Things to Learn About Bonefish… all from one simple photo.
I'm not going to steal his thunder… go ahead and visit the site and check it out.
Thinking about what I might be able to illustrate in one photo…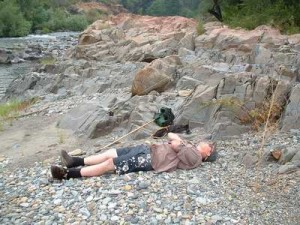 4 Things from this photo:
The Upper Sacramento does get warm enough to wet wade.
A wading staff isn't just to keep you from filling your waders.
I am whiter than is reasonable… or appealing… or healthy.
When you are really hung over, you can sleep anywhere.
Ah… my 20's….
Tags: bonefish, bonefishing, Deneki Outdoors, flyfishing