Exuma, Bahamas, June 2010. It was our first trip to the island and definitely not our last. When my husband, Todd, asked me how I would like to celebrate my 40th birthday I told him, "Saltwater fly fishing of course!" He asked me "Where?" so I suggested we try the Bahamas since we had yet to fly fish there. It did not disappoint
via Bone Lake Country Living: One More Sweet Song.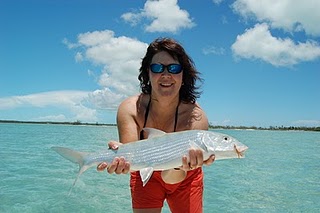 I can't wait to turn 40 so I can get a trip like this.
Tags: Bahamas, bonefishing, Exuma, flyfishing