Tom Rosenbauer invented fly fishing.  OK… I made that first part up.  It turns out Tom has been a bit all over this thing we call fly fishing for a while  now… mostly at the Orvis Company where he is currently Director of Marketing for Orvis Rod and Tackle. He's been at the company for 30 years, which is a good amount of time to hold down a job.  He's also an author of more than a couple fly fishing books.  Tom's podcast has been around for about as long as podcasts have been around and Orvis in general has been way out in front in the use of new media.  Tom just landed Angler of the Year from Fly, Rod & Reel… the most amazing part of that is that it is for 2011… we are only three weeks into 2011… so… good going Tom!
I read on the Trout Underground that you were Angler of the Year from Fly, Rod & Reel.  What were some of your highlights from 2010?
I was actually Angler of the Year for 2011, so I'm looking forward to my angling highlights.  I hadn't even read the dates and someone told me, "Hey, you are angler of the for 2011." So, I have to fish a lot.
Getting that in January, does that give you a pass at home?
Oh yeah, at home and at work, I can just fish any time I want. My wife is actually very understanding of my addiction and working at Orvis, we all get a pass more often than folks in other jobs… it is part of our job to stay up on things and to actually walk the walk.  We are lucky, blessed in that regard.
Well, looking back to last year where you weren't angler of the year, what were some of your angling highlights for 2010 and would your wife be willing to talk to my wife (this was before my wife signed off on my trip to Andros South, so, I think my wife is doing just fine)?
It took me a couple tries to get this one (wife).  It's a long road, a long and expensive road to find one that will let you go fishing.
I looked at the question and I had a hard time thinking of highlights.  I had a great day brook trout fishing around the corner from the office one day. My annual trip to the Catskills, which I always love.  I go to the Bahamas once or twice a year for what we call the Bonefish Classic where we go with some customers and Aaron Adams is there teaching about bonefish biology and I'm there doing a tackle and rigging seminar and then we go fishing, and that's always fun. Striped fishing at Cape Cod.  Nothing that I don't do just about every year.
What was a real highlight was I had really good fishing in my backyard.  I live on a little trout stream with wild brooks, browns and rainbows. The fishing was really good in my backyard and I was able to go down with my wife and dog and six year old and I was able to catch nice fish on dry flies while they were playing on the gravel bar every night. So, that was fun and a highlight.
Bonefishing is an addition for some and a dream for others.  What advice would you give to someone who was maybe a little bit intimidated by bonefishing, but wanted to give it a shot?
Don't go to the Florida Keys because the fish are incredibly difficult and the guides are very impatient.  So, I'd not go to the Keys for my first time, or maybe my second or third. I'd go to Mexico or Belize or the Bahamas, Venezuela.  Unfortunately, it's a more expensive tour.
Two things.  Don't go to the Keys, not for your first time, and practice your casting.  Practice, practice, practice.  I can't stress that enough.  I mean practice casting to get the fly out there at 40 feet, accurately.  I don't know if I've ever made an 80 foot cast to bonefish and I don't know that I'd try. People go down there and they spend all this money and they tie all these flies and then they get in the boat and they really, really can't get the fly out there.  They get a little wind and the game is over.  All it would have taken was some practice.
Bonefishing is not hard. The fish are spooky, yeah, and the casting has to be accurate, but they aren't that selective, at least in most places.  They eat almost anything and you don't really need to worry about fly selection and most bonefishing guides are so good at pointing out the fish and telling you where to put your fly, but you have got to be able to put that fly at 40-45 feet and you have to do it in a hurry.  My advice would be to practice your casting.
You do the Podcast and Orvis has really been out in front when it comes to Social Media. A lot of the other established players aren't really even in the game.  The question you hear about Social Media is, "Does it work?"  So… does it?
We don't know for sure.  We are going on trust.  We have some advantages, we have a big infrastructure behind us that allows us to do these things, but we have a guy names James Hathaway who is our Social Media Guru who has been her for 4-5 years and he's really pushed us into Social Media.  The owners of the company are totally behind it, so, that has made it easy to get into social media.
Anecdotally, you hear it all the time.  "I bought this rod because of your podcast" or "you've really helped me enjoy fishing more" and you have to believe that is good business. The fact they bought a fly rod, that's fantastic, but that you've helped them with their casting or their stream reading or whatever, it has got to put Orvis top of mind next time they go looking for a piece of tackle.
As far as monetizing it, we haven't figured that out. I don't think anyone has.  We are going on faith and that's what you do when a new technology comes out or a new way of reaching out to your customers.  That's kind of out of character for Orvis because we are a direct marketing company.  We've always been a direct marketing company and we measure everything.  If you aren't measuring it, chances are you aren't going to get the support of the management here to do it.  But with social media, we've taken that jump, we've taken that risk.  Anecdotally we see it every day, you see indications that it is working, but as far as monetizing it, figuring out what it is worth to get someone to listen to your podcast, figuring out what it's worth for a download, looking at the fishing reports, the blog…  we don't know.
There are places with big bonefish and places with a lot of bonefish.  If you had to choose between the two, which way would you go?
That's a tough one.  Big bonefish can be kind of boring with long dry periods.  Places with a lot of bonefish get a little too easy and you get bored… not that I ever get really bored with bonefish. Can I split the difference?  My favorite place would be a place with a number of moderate sized bonefish with a few big ones thrown in. The Bahamas fits that bill better than any place.
I've seen 20 pound bonefish there.  I've seen bonefish that Aaron Adams of Bonefish & Tarpon Trust said was a 20 pound bonefish. The average fish is usually 3-4 pounds, but the big ones are there.  That's kind of my ideal would be to split the difference.  I don't care if I don't catch a 12 pound bonefish.  A 6 to 8 pound bonefish I'd consider a really good day.  I'd have to split the difference.
I may have a good idea what your favorite rod and reel is, but why don't you tell me anyway.
It is hard to beat those Helios rods.  They do everything you ask them to do. They are light and they are pretty.  The Mirage reel that Steve developed… the Helios and the Mirage is really hard to beat.  Luckily, we have an employee loaner program here so we can get these things, any model we want, at any time.  I can fish any Orvis outfit I want.
Do you have one bonefish that you remember more than others?
I remember a day of bonefishing I had that really stands out.  I was staying on a place on Abaco and there's a place called Cherokee Sound with lots of white sand and ocean going bonefish, they are bigger bonefish, tougher fish, almost like Keys fish because they get fished kind of hard. One day I said to the guide, just leave me on a key for a day.  He said "what?" I said, yeah, take me out there and leave me there and then come back at 5.  You go have a smoke or drink a six pack, whatever you want and come and get me at 5.  He left me on this little key and I fished all around.  I caught some 8-9 pound bonefish and just had a wonderful day.
Another one recently, was a bonefish I was fishing with a customer during the Bonefish Classic and it was my turn on the bow and there was a bonefish way up in a mucky bay and we couldn't poll to him. So, I asked the guide if I could get out and stalk it and he said "yeah." I was able to sneak up and stalk that fish and I caught it. That's always cool.  It wasn't a huge bonefish, but it was challenging.  It was fun.
Do you have a "one that got away" story?
I don't think so.  I don't think I've ever hooked a really, really big bonefish.  Maybe 11 pounds is the biggest fish I've ever hooked, but it didn't get away.  I don't think I've ever had a really giant bonefish.  I don't know if I've ever even had a shot at a really giant bonefish.  That 20 pounder Aaron was casting to it, not me.
I have a good tarpon that got away story from El Pescador.  This story involved a broken rod and a broken reel and diving in after the fish and being left treading water while the guide chased the fish with my rod dragging behind it.  The tarpon that got away story is the only good one I have.  They are still talking about it at El Pescador.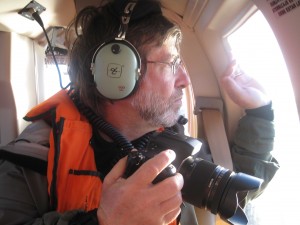 Thanks Tom.  Appreciate the time.
Tags: bonefish, bonefishing, flyfishing, Gear, Orvis, Tom Rosenbauer