My wife is in Montana with our boy at her parents' place. My daughter is in Mexico with her mom. I'm in Louisiana for work.
This is my fifth trip to NOLA since August and I had yet to find time to fish for reds. I decided this would be the trip I'd change that.
When I got in on Monday I was surprised at how cold it was. Temps were in the high 40's at night. It was, ya know, for a Bay Area person, cold. I didn't fish Monday. I didn't fish Tuesday, an equally cold day. I didn't fish Wednesday morning, but after my last meeting of the day at 11:00, I headed south to meet up with guide Capt. Ron Ratliff for a half-day of fishing.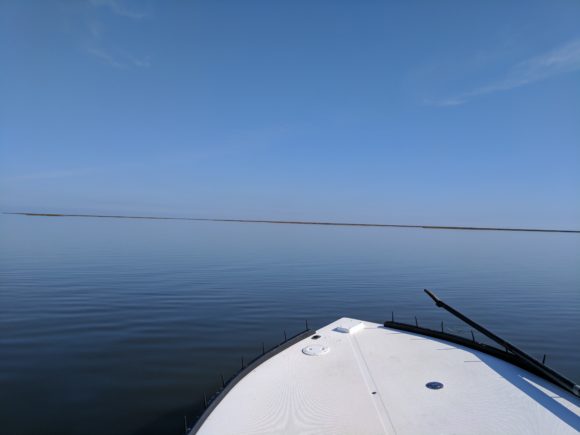 Wednesday was a beautiful day. The chill had gone away, temps were in the mid 60's and the wind was negligible. I lucked out, pure and simple.
After getting to Chauvin and quickly changing out of my work shirt and slacks, we were off and on the water.
This was my first time fishing for reds in Louisiana. I was reminded strongly of the Marls in Abaco, but in place of mangroves you have the marsh grasses, which serve the same function in pretty much the same way. Small islands and bays and channels all were created by the marsh grasses, creating a maze of habitat for fish and the things they feed on.
We only fished for a little over three hours, but we found fish, a lot of fish, and they were often grabby. I was surprised at how close in the casts were (30 feet was a long cast and my longest, maybe 40′, was five feet past the fish) and how many casts these fish would let you take. They seemed not to care a whole lot about a half dozen casts landing all around them with a weighted fly. They didn't like being lined, but beyond that, they were extremely agreeable.
Capt. Ron was easy to share a skiff with. He's a local and he knows his water, and the fish, well. We had to change flies a few times to get it dialed, but we found what worked and the fish were mostly happy fish. We had a good time on the water and brought several fish to the boat in a day that was short on time to begin with. I had no complaints and was all smiles. I like this country and I like these fish.
I also managed to catch my first black drum, which was a nice bit of work.
I'll be back. This is a special place, clearly, and it needs maybe some more of my time and consideration.
Tags: Capt. Ron Ratliff, louisiana, Redfish