It is a family vacation we are on, but, of course, there is a little fishing in the mix.
We are on Oahu and I managed to convince my wife to part with me one day so I could try and break my Hawaiian bonefish hex. I've been to Hawaii a few times and I've seen bonefish, but caught none, until yesterday.
I saw my first bonefish ever in Hawaii about 9 years ago. I didn't catch any.
I spent four days on that same beach a few years later and I got 4 casts in the whole time. I didn't catch those bonefish.
I went with a guide in Maui last year. There are bones there, but I didn't catch any.
I had always heard the fish are big, but there are few of them and it isn't unusual to get blanked. All that was in line with my past experiences.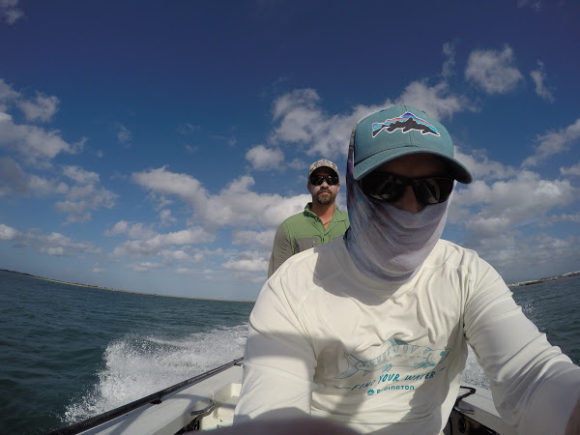 This year on our family vacation I went out with Kenny from Hawaii on the Fly. He has a modern flats skiff, is from Florida originally and has been guiding out here for several years. He found, almost immediately, one of these elusive Hawaiian bones, known as o'io locally. He then found another, and another and another and… hey, wait a second… these things are all over the place!
He warned me these fish are particular. You have to lead them by 9 feet. Not 6 feet. Not 3 feet. And dear god not on their heads. I can tell you this is almost entirely true. They knew the difference between 9 and 6 feet and were out of there if a cast was anywhere near them. I made a LOT of casts too near the fish. Kenny can tell you.
I caught my first o'io and my second. I ended up hooking 7 and had maybe 40 legit shots out of the 200+ bonefish I saw on the day.
I had no idea you could see so many bones in Hawaii in a day.
While you can find them, you are not likely to catch them. Fly selection was very different from what I'd normally cast. In fact, I doubt a single fly out of my 200+ would have been appropriate. They just act differently. Presentations that would have gotten eats in Abaco or Andros freaked these fish out.
They make me think of the bonefish I saw at Crab'n Bay in Grand Bahama. An easily driven to and waded flat, the flat is full of bones, but they are epic in their toughness and that has everything to do with the same bonefish usually returning to feed on the same flats. These fish are trained. They are weary. They are wise to us all… unless you break out some top level angling.
It was windy, really windy (Hawaii is kind of known for that), but the shots were fairly close (some at redfish distances). The wind ended up being way less of an issue than I thought it would be.
Bonus was seeing about a 40 pound GT and a not-small milkfish, two fish I had not seen before (no casts made at either).
It was a great day on the water. Kenny was easy to spend time with. He's not a yeller. He's easy with conversation. He worked hard and he put me on fish after fish after fish (and didn't complain when I broke off four of his flies on fish).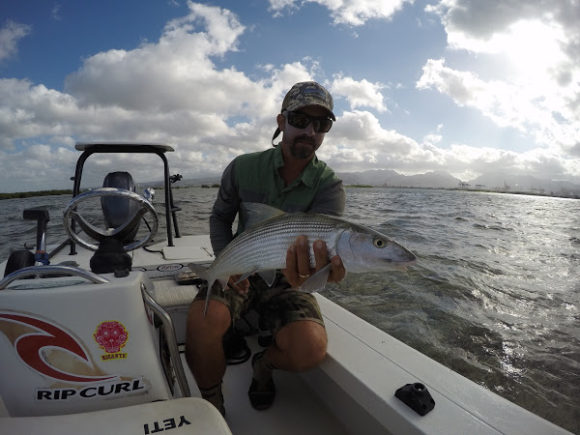 I have a whole new appreciation for Hawaiian bonefish. Thanks Kenny.
To book go to Hawaii on the Fly. (No promotional exchange for this post, I paid full fair, and would again.)