What an odd year it's been.
I got out, I went some new places, I had some different experiences, I caught some new species, I met some new people.
It was another year where my days fishing for trout diminished. I think I fished for trout exactly three days… all with my daughter and a bit with my son (who landed his first trout), and for fewer combined hours than I'd normally fish in a single day. It just gets harder and harder to get away and make the drive North or East to find trout water. Kids. Work. Wife. It just isn't fitting into an increasingly full life. I can't really even complain about that, it's just an observation.
I continued to find some time around the edges to get to the Bay and fish for stripers. I didn't do this as much as I would have liked to, but I caught some, even the odd halibut. I saw plenty of seals and pelicans and very few other anglers.
My first trip of the year was to Ft. Lauderdale/Miami. It is a trip I'll look back on with sadness, given the later actions of my fishing partner, but the fishing itself was pretty interesting. I caught my first Peacock Bass, which was pretty fun, as well as my first Mayan. I went night tarpon fishing in Biscayne Bay (remember, my son's middle name is Biscayne) on a night of high winds and low expectations. We didn't catch anything more than a single jack, but we did have tarpon rolling on the shadow line of the bridge and it is something I really want to do again. I got to fish with David as well, who showed me one of his spots.
My second trip of the year was to Belize for Spring Break with my girl. We went to Caye Caulker and stayed at Sea Dreams. It was a pretty awesome trip, full of bonefish caught from the dock and very little time wearing shoes of any kind. The day of fly fishing resulted in one nice snook and a really good soaking from the rain. Lots of great memories from that trip.
My third trip of the year was to Oahu for a family vacation. I had a day to fish and I managed to break my O'io curse, landing three, hooking seven and seeing my first adult Giant Trevally and my first ever milkfish. It was a pretty good day on the water… opened my eyes a bit to the Hawaii bonefish game.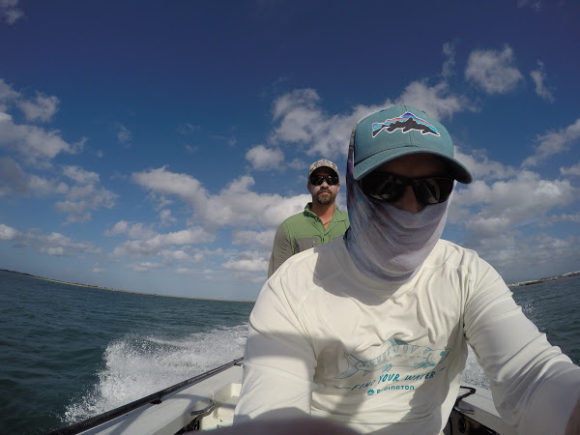 My fourth trip was to Mexico, Mahahual, with my dad in July. I think it was maybe a bit too late in the year as it was HOT. This was, in retrospect, not the best trip for my dad. The heat and unsteady footing were not his friends. Still, he caught his first tarpon (baby) and had his first grabs from adult tarpon. I caught some babies, had more than one eat from the big guys and caught my first trigger fish. It was a good trip that would have been made better by maybe 8 degrees less heat.
My fifth trip was down to the marshes of Louisiana, DIY kayaking for redfish with a group largely from Alabama. This was a great experience. I had never fished out of a kayak like that and was a bit shaky, but managed to catch three reds and my first speckled trout. I met James, another blog reader, and enjoyed our day on the water.
That rounded out my fishing for the year. It is now approaching mid-December and I might, might get another day or two of throwing for stripers in the Bay, but beyond that, my fishing is pretty much wrapped up for 2017.
New species: Peacock Bass, Trigger Fish, Speckled Trout
New guides fished with:
New fishing friends made: