You know where I'd love to be January 23 – 27? I'd love to be back down at El Pescador for a three day tagging tournament, benefiting the Bonefish and Tarpon Trust (ya know, if we put together a group, I probably COULD come down for this… just say'n). This is put on by the good folks at El Pescador and their stable of excellent guides. Here's the skinny.
To: 2nd Annual Grand Slam Tagging Invitational to Benefit Bonefish & Tarpon Trust at El Pescador
When: Wednesday, Jan 23 – Sunday, Jan 27, 2013
Where: El Pescador, Ambergris Caye, BelizeWhat: A 3 day tagging event
Why: To raise money for Bonefish and Tarpon Trust whose mission is to support research to help understand, nurture, and enhance healthy bonefish, tarpon, and permit populations.
El Pescador will donate US$250 for every paying angler entering the 2nd Annual Grand Slam Tagging Invitational to benefit BTT. The total sum raised will be donated in the tournament grand champion's name to BTT. The grand champion with then receive the corresponding benefits associated with that level of membership. The grand champion will also receive one (1) spot, with the entry fee waived, to compete in the 2014 March Merkin invitational permit tournament in the Florida Keys.
El Pescador has worked with BTT and their tagging program since 2009. We tag permit, bonefish and tarpon in order to answer basic questions about population, growth rates and movements.
The tournament requires anglers and guides to not only measure the fish before release, but to tag them and/or genetic test them as well. This is a charity tournament benefitting Bonefish Tarpon Trust. Tournament information is available at
http://www.elpescador.com/fishing/btt-tournament
Information about tagging as well as scientific and conservation issues affecting Bonefish, Tarpon and Permit around the world can be found at www.tarbone.org
—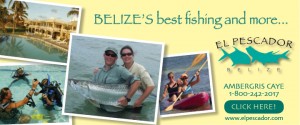 Tags: Belize, Bonefish and Tarpon Trust, bonefishing, fly fishing, tagging