I would love to catch an 11 pound (and 12 ounce) bonefish. I'd really, really love to. My largest fish is maybe 7 pounds (I was told 7.5, but that means it was probably 6). At some point I might actually achieve this dream if I keep after it and fish in places where hogs like this live.
I can imagine that this guy was really very happy to have crossed paths with such a magnificent creature, to have hooked it and to have landed it. I mean, come on… that thing is huge. It is the fish of a lifetime.
So, I was kind of bummed to see this fish held up by a boga grip.
Boga grips are bad news for bonefish. They should not be used.  It is likely an education issue. People see fish being gripped with a Boga and they think "well, this must be how things are done."
It isn't.
Knowing is half the battle. Spread the news.
—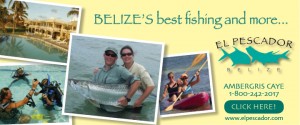 Tags: Andros, Big Bonefish, Boga Grip, fly fishing