So, for those of you keeping track, this last year has been a crazy one for me. I got back from Andros in April of last year to a critically low Domestic Tranquility Index that kept finding new lows, like, Congress Approval Rating kind of lows. That went on for a while until it was clearly not sustainable anymore.
Attorneys, stipulation orders, custody orders, new digs, new furniture, 50/50 split… ya know… just pure joy.
Now that is mostly all water under the bridge (but not like the tides kind of bridge where it flows one way in the morning and the other in the evening, this is permanent kind of flowing under the bridge).  I moved beyond bitter or angry or sad a long time ago and that left me open for something wonderful.
That something wonderful and I are going to get hitched come September.
And… looks like the honeymoon will likely be at El Pescador.  Yeah, I like the direction we are headed in already.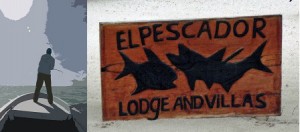 Tags: Belize, bonefishing, El Pescador, fly fishing, honeymoon