It is hard not to feel like a "kid in a candy store" at the show. All the gear is there for you to drool over. It doesn't suck. I tried to get some of the gear makers to let me help them out when they packed up by taking some of the gear home, but, alas, that didn't come to pass.
I got around to talk to folks and here is a little of what I saw.
Ross
As you probably know, Ross got a bit bigger in the last year as they were acquired by 3M. 3M owns the Scientific Angler brand and most of the news was coming from SA.  Ross has taken a step back and is re-engineering a lot of their reels to bring them more in line with the F1 series, meaning sealed drags. I'm really curious to see what they come up with.
One interesting thing is that the SA System 4 reel has seen some big changes. It looks a LOT like the Ross CLA (I own one) and is now made in the USA (good on ya 3M).
Another product coming out of the SA side of thing is a new tippet holder with a build in cutter. They have really put some thought into tippet, coming up with a color coding system that will make it easy for you to figure out what you have your hand on. Interesting stuff. I got a couple spools, both for my fresh and saltwater fishing and I'm looking forward to trying it out.
Cheeky
3M is a pretty large company and at the other end of the spectrum are newcomers Cheeky. I've covered Cheeky because I like the little guys. This was the first time I've actually held one of the reels in my hand. The styling is something you either like or you don't. I liked it. They now have a full lineup that will handle the 4 wt. to the 14 wt..
They had me at the sign.
I'm sure that fish was taken right from the water and wasn't exposed to the air for too long.
There's even more and I'll eventually get that up for y'all.
—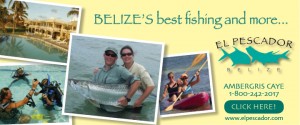 Tags: 3M, bonefishing, Cheeky, flyfishing, Ross, Scientific Angler